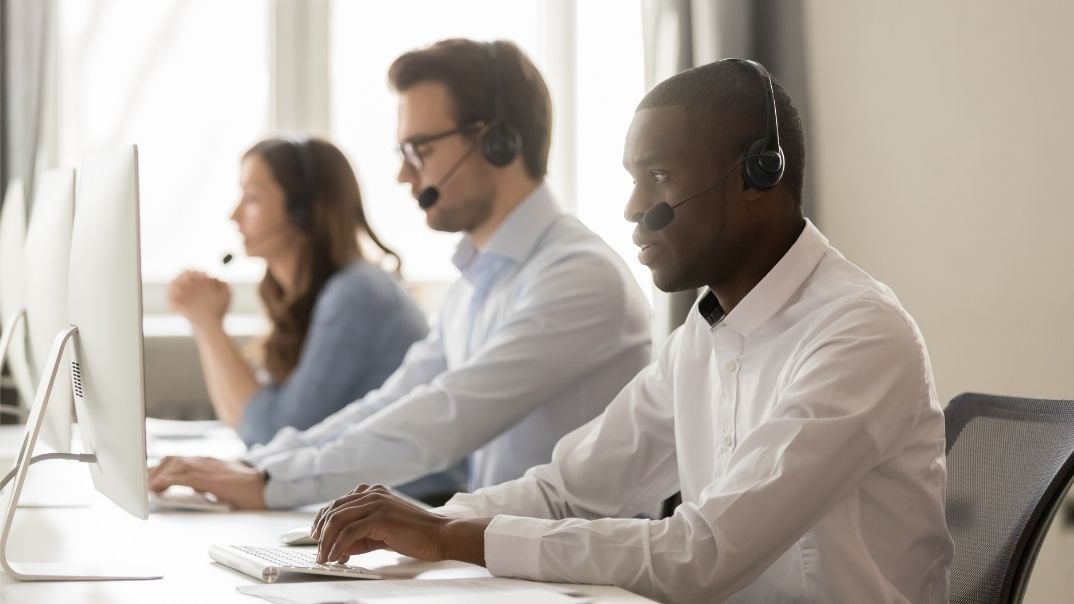 SIP trunking can reduce your call centre's costs, improve productivity, and increase its capabilities.
Call centres are a fast-paced, highly technical, and competitive business environment with sensitive margins. Managing a call centre requires your operations to adopt technology that yields results and ultimately returns. Your call centre should consider a SIP trunk service with that in mind.
What is SIP?
Session Initiation Protocol (SIP) is a communication protocol that works like an analogue phone line because you can make local, long-distance, and international calls as the phone system can connect to the public switched telephone network (PSTN). SIP creates, modifies, and terminates sessions with one or more parties in an IP network which enables voice calling over the internet.
SIP is scalable; you can easily create 1000 or more channels for inbound and outbound calls using a SIP service. You don't have to change numbers; Premitel will port the ones you have to the SIP trunk. Additionally, you can have numbers from multiple geographic areas managed in a single place.
With a SIP service, you get the functionality of a traditional phone at a lower cost and with more capabilities.

SIP and call centre management
Call centres are high-demand clients for voice and internet services. But most of the time, they do not get the tailored, quality service they deserve.
As a call centre, you probably have several service providers for:
Voice
Internet
Cloud services
Your business puts a high demand on your service providers. You probably had to negotiate with your service providers and got offered rigid multi-year contracts that didn't go as far as you needed. For example, some telcos do not allow auto or predictive dialers so that they can manage their traffic; good for them, not so good for you.
At the time, having multiple service providers may have made sense. But with Premitel, you no longer have to split your business requirements. You can negotiate directly with Premitel and get lower rates, higher quality services, and uptime guarantees.
At Premitel, your call centre will get:
Wholesale discounts on your calls
Superior quality, especially to international destinations
Reliability and technical support
Accurate and detailed billing
Local and international Direct Inward Dialling (DID) numbers
To keep your old number. Premitel can port numbers from different providers, including 080, 086 & 087 numbers.


SIP and call centre operations
A call centre can not afford to have crackling lines or calls cutting off; any issues with its telephony impacts its productivity. Some common telephony issues tech support has to deal with include:
Poor call quality
Unreliable technical support from the telephony service provider
Questionable voice service availability
Budget constraints around call rates
A mismatch between call records and billing.
Premitel is a local company with global reach. We pride ourselves on delivering personalised services to your business where you get full access to our team of experts when you need us. We offer a professional yet personalised experience that forms part of the company's commitment to delivering consistent service, including:
Failover to backup trunks and locations
Ability to route calls to multiple call centre locations based on call volume, source of the call, power failure, connectivity issues, or other policies
Ability to Integrate with Cloud PBX, MS Teams

,

and third-party applications
Opportunities for custom development for integration with your CRM
Protection against toll fraud
Detailed usage reports
Virtual inbound phone numbers.
How call centres can leverage a SIP trunk
South Africa is a global leader in the business process outsourcing (BPO) market, with expectations for exponential growth. A survey found that:
Seventy-five per cent of South African call centres had yearly growth of over twenty per cent.
More than forty-three per cent of them had plans to develop multimedia communications within a year.
Twenty-nine per cent of SA call centres said they use VPS, IVR, or Voicemail to take messages from customers while
Twenty-one percent use VPS or IVR to interact with customers without human interaction.
Growth is good if you can manage it, and new techniques are only as good as the tools you use. Call centres will need SIP trunking to drive growth, keep costs low, and adopt new technologies. Here is how SIP trunking can help your call centre achieve its objectives.
Cost reduction is the most significant advantage of SIP trunking. Rather than paying access fees and maintenance for channel service unit (CSU) hardware at each call centre, you pay for what you use under a single virtual voice switching platform. Additionally, upgrading to SIP trunking does not require expensive hardware upgrades or much time.
Flexibility is something that call centres need, especially in unpredictable times. Using SIP trunking, you can route calls easily. SIP trunking can also connect inbound calls to your contact centre as a service (CCaaS) platform. It is an effective disaster management tool should an office become unusable, or staff need to work from home.
Reliability is more secure under SIP trunking. Your telephony connection may not be reliant on cables, so a fibre cut or an equipment failure will not interrupt your business; if the calls are rerouted using an alternative link. Multilocation call centres can also use routing to shift calls and fully utilise agents between locations; if call centre A has heavy traffic, you can redirect calls to call centre B, which has low traffic.
Scalability is essential for call centres as they manage demand, especially during industry growth or periodic demand fluctuations like during promotions. Old tech like Time-Division Multiplexing (TDM) trunking, and even some VoIP telcos, require you to buy lines in blocks of 10 or 20 and often months in advance. SIP with Premitel, on the other hand, enables your call centre to scale effortlessly to any number of concurrent calls. You can increase capacity one at a time or in larger amounts almost immediately. You can also reduce capacity without facing penalties, making scaling your operations efficient and cost-effective.
National and, more importantly, global connectivity is possible with a single platform. A cloud-based SIP trunking service can connect to the PSTN in countries worldwide through a single vendor that can provide toll-free and local phone numbers. You do not have to negotiate or use multiple telco vendors, even if you are in another country. Additionally, you will not need their services to provide toll-free or local phone numbers in each country you have customers or instruct them to route calls to the proper contact centre. Remember that you can boost your answer rates if your caller ID shows a local area code to your prospect.
Improved voice quality is another critical feature of SIP service. SIP uses quality HD compressing codecs such as G711 and G729, supported by major mobile operators and internet telephony service providers.
Detailed reports are available through SIP trunking. The call tracking and analytics will help you to anticipate and manage demand.
Premitel offers service, peace of mind, and crystal clear communication solutions. It takes stress off the call centre managers' shoulders by modernising your communication channels, improving productivity, reducing costs and securing your data.