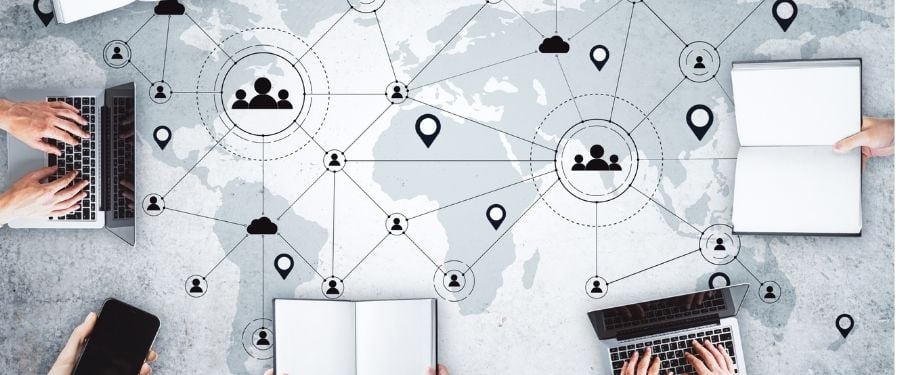 You may have Microsoft Teams already, but integrating it with Premitel's CBX can improve your user experience, performance, and cost-effectiveness through a unified communication system.
Premitel's cloud business exchange (CBX) is a telephony system that operates through the cloud. It's a cost-effective, scalable, user-friendly, flexible, and a feature-rich communication solution. Our CBX is a superior solution to the traditional PBX in every facet of any organisation; that's why tech-savvy people are adopting it. If you would like to hear more about CBXs and how they can improve your operational performance and financial indicators, get in touch with Premitel.


What functionality does Premitel's CBX solution offer in terms of integrating with MS Teams?
As an MS E5 licence holder, you access Microsoft's best apps, analytics, and cloud services. As you explore everything the E5 licence offers, you may realise that you are underutilising it. The features on Microsoft Teams include full telephony and can completely replace your business's existing phone system.
An area that may frustrate many South African IT administrators is the maintenance of an MS unified communications environment and a separate telephony environment. Your MS E5 licence can work on a single unified system to manage external and internal communication.


To add telephony to Microsoft Teams, you have two options;
Microsoft Calling Plans which let you use Microsoft as your telephony carrier. This option comes with restrictions like limited PBX functionalities and feature capabilities.
Direct Routing lets you choose a telephony carrier and PBX services to connect to a PSTN (public switched telephone network), which is a service Premitel provides.
Microsoft Teams has many features, but you need to connect to a PSTN operator like Premitel to facilitate calls outside of your business. Integration with Premitel's CBX solution turns your MS Teams software from a nifty tool you use within your business into a platform that will help you manage internal and external calls, making it a truly unified communications platform.
All MS licences come with Microsoft Teams, but CBX can only work on E5 licences as these licences are the only ones that come with PTSN conferencing and external calling capabilities.
A client can call your regular number and the Premitel CBX will manage the inbound traffic and deliver the call directly to your MS Teams application. You may add any of our premium CBX features, like:
Direct Inward Dialable (DID) phone numbers
Porting of numbers
Day and night service modes
Direct Hunt Groups (DHG)
Pickup groups
Call Queues
Call Recording
Messaging on hold
Custom call barring
Custom music/messaging on hold
Telecoms Management Service (TMS)
Office hierarchy/multi-company setup
Multi-site setup
Extension Pin Codes
When you choose Premitel's CBX solution, you get voice services like unlimited extensions, phone numbers and real time call records while retaining MS Teams as your collaboration platform.
Now, we have integrated our CBX fully with MS Teams. All your incoming and outgoing calls are routed through the CBX using the MS Teams application. Everything works seamlessly, providing you with a native experience within the Teams interface, without the need to programme the MS Teams; you get the best of both worlds.
Reasons why using the Premitel CBX offering makes perfect business sense.
There are numerous benefits to integrating Microsoft Teams with Premitel CBX. Here are the top 11 benefits you can expect:
Premitel's CBX intuitively integrates with Teams. You don't have to worry about additional downloads, plugins, or bots. Your Teams user experience is the same while you get the power of Premitel's voice services.

Manage the CBX call handling and extension behaviour directly from the Premitel Client Zone.

You don't have to worry about managing the technical setup and deploying it. Premitel will set up, maintain, and operate the CBX infrastructure for you.
You can add premium voice services to improve your productivity, like AVR, call handling and call queues.
Premitel's CBX runs on a scalable international carrier grade infrastructure, hosted in two top Teraco data centres; hence it comes with SLA targets for uptime. Therefore, reliability won't be an issue.
Security and compliance are inherent in cloud services. From POPI, GDPR, and any other regulation, you will find it easier to track, secure, and transfer data.
Collaboration is becoming essential in a fast-paced work environment, especially if there are remote teams. You can connect to the integrated system using any mobile device, desktop, or web. Your staff can connect to the system internally or externally from anywhere with internet access.
You can scale the system according to your needs. You have the freedom to easily and quickly add or subtract users or features.
Lower rates on local and international voice calls. Premitel's voice services can save you up to 60% or more on your calls.
Premitel's CBX can run on third-party VoIP apps like Zoiper and MS Teams mobile.
The Premitel Client Zone enables an IT service provider to easily service and maintain their Clients' telephony solution and earn extra service revenue on top of earning commission from Premitel.
Premitel's CBX is available to anyone, however the integration with MS Teams is available for anyone with an E5 license like:
IT Service providers that sell Microsoft packages that service consumers looking to get the most out of their specific MS E5 licence, and
Consumers searching for PSTN connectivity to their MS Teams platform.
Unify your communications with South Africa's only CBX offer that can help you leverage your MS E5 licence.