 Cloud communication is taking over South African businesses - and with good reason. Here is a list of reasons why you should be using it too.
Cloud is revolutionising how businesses are operating and evolving. Cloud services have democratised technology and made it available to anybody, anywhere, and at a lower cost. Many South African businesses have adopted cloud as an integral part of their IT strategy. According to DataCube Research, 90% of South African enterprises are developing a cloud strategy. Cloud spending will see a rise of 11.4% to R32 billion in software spend in 2019, according to Gartner Research.
What is cloud computing?
Cloud computing, also known as cloud architecture, covers a broad range of cloud-based models — many of which marketers and developers will be familiar with such as:
SaaS: Software as a Service
PaaS: Platform as a Service
IaaS: Infrastructure as a Service
Cloud-based communication: VoIP (voice over IP) technology
VoIP is a phone service that uses the internet for delivery - think WhatsApp calls or any other app that lets you make voice/video calls over the internet. This service can be modified to suit business needs using the cloud.
---
Find out if your current VoIP solution offers your business the most competitive rate by signing up for our free cost-savings calculation.
---
Virtual phone systems provide the same features as an onsite phone system, but it is the cloud provider that manages the service, relieving IT of most or all of the maintenance and troubleshooting. You have all the same features of an onsite system, such as voicemail and call recording, but it is all managed in the cloud. Some cloud phone systems have added features and benefits such as the ability to turn conference calls into online meetings with messaging and video.
A survey by MyBroadband, found that South African decision makers experienced the following benefits of using the cloud:
Data backup (68.11%)
Disaster recovery (60.00%)
Cost savings (53.51%)
Flexibility and scalability (52.16%)
Security (50.81%)
Data mobility (44.86%)
Operational efficiency (44.59%)
Automatic software updates (23.51%)
Competitive edge (20.27%)
The enthusiasm behind cloud communications is the real benefit for businesses. The ease with which a business can switch to cloud has also made the transition easier for companies looking to upgrade from their legacy systems. Here's a list of eight reasons why cloud communication is taking hold in South Africa.
The eight top benefits of cloud communications for your business
1. Cost savings
One of the biggest benefits of cloud computing is the cost saving. The company no longer relies on its own resources to create the IT infrastructure and keep it up to date. This responsibility now falls on the cloud service provider, which can share out the cost across multiple clients.
Sunk costs are a constant in legacy systems; did we buy enough infrastructure for scaling, is it the right technology, is it safe to sign a 5yr SLA with this vendor? One of the biggest savings the organisation will make is in capital expenditure. Legacy systems have large initial investments and recurring costs such as maintenance and upgrades. In comparison, cloud communication services have low initial cost requirements and the organisation pays only for what it uses. It shifts technology financing from a capex model to an opex model.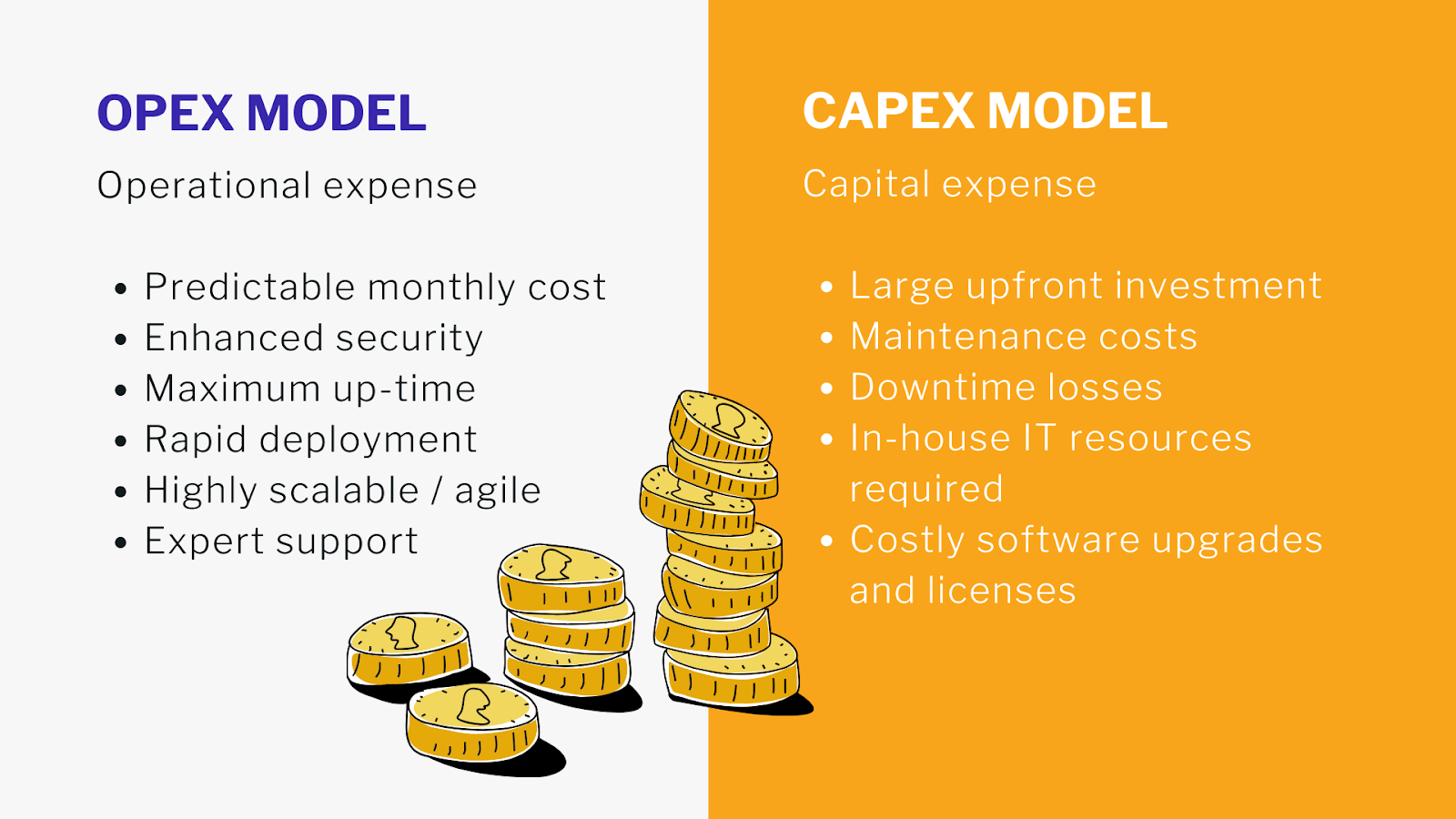 Cloud communications comes with no costly investments in servers and PABXs. System upgrades are automatic and are part of the service, so there will be no surprise costs in the future. You only pay for what you use, so you don't over or under utilise a cloud service, it's just the right fit for you. Plus you don't have to waste space and energy on a room full of telephony equipment.
The benefit of Premitel's cloud communication services is that we are both a voice and software supplier. Our cloud call centre services are hosted via eight high-end Amazon data centres and our cloud PBX services are hosted in two top tier Teraco data centres in RSA, giving customers seamless communication with low down-time and access to industry leading technology. Being both a VoIP and software provider means that we can build in an additional discount structure - allowing you to pay less per minute. With Premitel, you can expect to pay as little as 10-15% for local calls, compared to the typical charges from internationally operated cloud call centres.
2. Security and maintenance
Cybersecurity costs time and resources and, while it may be an intensive exercise, it is essential. South Africa experienced a 22% increase of cyber attackers in 2019 Q1 compared to 2018 Q1, resulting in over 13 000 attacks everyday.
As technology has become more intelligent, so have the cyber threats. In the cloud, the system is not only continuously kept up to date, but it is maintained by dedicated cybersecurity professionals, the cost of which is covered by your supplier.
Cloud services come with Service Level Agreements (SLAs) which often covers uptime and security. This is because the service provider will have a team dedicated to the cloud's security and efficiency. The cybersecurity that automatically comes with the cloud would be relatively expensive and cumbersome for SMEs and large enterprises if they were to rely on their own resources in-house.
Every technology needs upgrades from time to time. Legacy systems are notoriously expensive and strenuous to upgrade. Cloud communication SLAs on the other hand, shift the responsibility and costs of maintenance to the provider rather than the customer. So your cloud communications are kept up to date automatically and at no extra cost to you.
By contracting all these functions to the cloud service provider, you can refocus your IT specialists on creating innovative products for the business.
3. AI and automation
AI is revolutionising software, apps, and connected devices. AI run on the cloud is more accessible to small players and is advanced enough to cater to large organisations. Cloud AI services cater to multiple industries at a fraction of the effort than if an organisation was to go it alone. The technology comes ready made for you and can be customised at minimum cost.
Automation is software that uses instructions to complete a repetitive process. It reduces human effort thereby letting staff focus on more strategic tasks. It saves time, reduces errors, and is cost efficient. Automation is;
revolutionising how businesses interact with customers through chatbots that are customising the customer's experience, reducing the human effort in CRM.
making compliance more efficient particularly in contact centres, by reducing the amount of human resources put into back office, repetitive work.
According to McKinsey's Global Institute's 2017 report, Jobs lost, jobs gained: Workforce transitions in a time of automation;
50% of work activities can be automated using current technology and
6 out 10 current jobs have more than 30% of activities that are automatable
4. Legal compliance
More data and workloads are moving to the cloud which presents great opportunities but this also raises a lot of compliance issues. Regulations such as POPI and GDPR bring with them onerous administrative complexities. The cloud has provided solutions to public and private organisations. Using AI, automation, and strong security, the cloud has reduced the cost and the effort required to remain compliant.
In a survey of decision makers and IT professionals to determine South African organisations' progress on POPI implementation projects, it was revealed that;
55% of respondents reported that their organisation is midway with the implementation of their POPI project,
31% have not yet started and
Only 14% have completed their POPI project.
Non-compliance to GDPR and POPI has huge financial ramifications and can damage an organisation's reputation in a world where trust is currency.
5. Mobile or remote work
Connecting to a cloud communication service requires an internet connection, rather than a fixed line. Legacy systems require your equipment to plug into a wired network. Cloud systems can connect through wireless technology like mobile phone service or WiFi. This enables staff to work from anywhere. They can access data on the field, process or analyse it in different locations, and give live reports.
This is also important for remote locations. Setting up a legacy phone system in areas with fewer than 50 workers at a site can be cost ineffective, but cloud communications makes it an affordable choice. Remote locations will also have access to the same resources as HQ since they all share the same cloud service.
Read our article, The business benefits and pitfalls of remote working, to learn more about how you can effectively foster a remote working culture in your business. If done right, remote working can help businesses achieve further cost savings - an absolute necessity in today's economic environment.
6. Scalability
Traditional telephony systems require hardware with limited access ports and increasing the number of users on the system usually requires additional equipment. A cloud communication service does not require significant investment in new equipment nor is access limited. The number of users can easily be scaled up or down at a very low cost.
61% of South African respondents cited scalability and business efficiency as the most important reason for switching to cloud (World Wide Work). Speed of deployment was also seen as important and came in at 68% of respondents.
7. Productivity integrations
Cloud communication systems can work with other apps or software. Within the cloud, you can integrate tools and services to allow you to work better without leaving the cloud. So, for example, while you are having a virtual meeting you can share and edit documents, schedule tasks or share your story screen.
8. Customer service
Cloud communication can unify multiple communication platforms into a single user interface. This makes reaching out to customers easier and more efficient without limiting their options. So, customers will be able to reach the organisation using voice calls, email, text, or IM (instant message).
A cloud-based contact centre solution can also provide a single platform from which anyone in the organisation can provide input. So, issues that require assistance beyond the contact centre's sphere of influence can be easily brought to the attention of the right people and they can solve the issue quickly on the platform.
In the 2019 ITWeb Brainstorm CIO Survey, executives revealed that improving customer service was a top priority driving their technology innovation.
Conclusion
Cloud communication is here to take your business forward. The benefits of cloud technology are universal and will make your business communications more effective. Upgrade your telephony system to a solution that will save you money and make your business a success.
Thinking of implementing cloud communication in your business? Contact our team of experts to help you build a solution that is fit-for-purpose and helps you achieve your business goals.